Mango & Maple Mezcal Margarita
Mezcal is not for everyone. This margarita can be a great entryway into the spirit; its subtly imparts the best parts of mezcal without being overly robust or diluting the smokiness of the spirit. In the Crespo Organic Kitchen, we are very fond of the Del Maguey Vida brand. Not only is it organic, but it has beautiful vegetal notes. This cocktail is a wonderful option to serve at Thanksgiving. Its unique fall taste will impress your guests. Blood orange is used to keep the tart limes as well as for color, making this a pretty pink-orange hue, kind of like the blush of a ripe mango. The fact that it's a margarita will keep everyone happy, and the chipotle black salt rim will keep everyone wowed. Serve with Fall Mango Spiced Pumpkin Seeds for nourishment.
Mango & Maple Mezcal Margarita
The best fall drink ever!

1 ½ ounces tequila reposado
½ ounce mezcal
1 ½ ounce Fall Mango Puree
Juice of ½ lime (about 1 tablespoon)
Juice of ½ blood orange (about 2 tablespoons)
Chipotle Black Salt*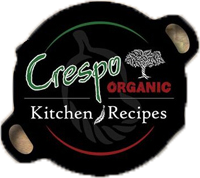 Combine the tequila, mezcal, mango puree, lime, and blood orange juice in a shaker filled with ice and shake vigorously for about 45 seconds. Pour the mixture over ice into a chipotle salted rocks glass.
*Chipotle Black Salt: Mix together ½ tablespoon dried mora chipotle chilies (chopped fine), 1 tablespoon Maldon salt, 1 tablespoon black volcanic salt, and ¼ teaspoon Crespo Mango Pumpkin Pie Spice.