Mango White Chocolate Pumpkin Spiced Latte
If you like Starbucks pumpkin spiced lattes, you will love this. It's rich and decadent without being sugary sweet. You can make it with or without the espresso. I was hesitant about adding espresso but, wow, was it good. Use non-dairy milk and cream for a vegan version.
Mango White Chocolate Pumpkin Spiced Latte
Starbucks has nothing on this one!

1 ½ cups of whole milk
2 tablespoons Fall Mango Puree, plus another ½ tablespoon
¼ teaspoon vanilla extract
3 ounces white chocolate, cut into small pieces
Pinch of salt
½ cup heavy whipping cream
2 teaspoons sugar
2 shots of espresso (optional)
Pinch of Crespo Mango Pumpkin Pie Spice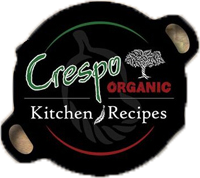 Heat the milk, 2 tablespoons mango puree, and vanilla until hot, just before boiling. Reduce heat to a simmer and add the white chocolate. Stir gently until the chocolate melts into the milk. Mix in the salt. Turn the burner to lowest setting and make your whipped cream topping. Using a whisk or hand-held emulsifier, beat the heaving whipping cream, the sugar, and ½ reserved tablespoon of the puree until soft peaks form.
To assemble the drink, add the espresso to the white chocolate mango mix and stir. Pour it into your coffee cups and top with the whipped cream and a dusting of pie spice on top.