Tropical Mango Rugelach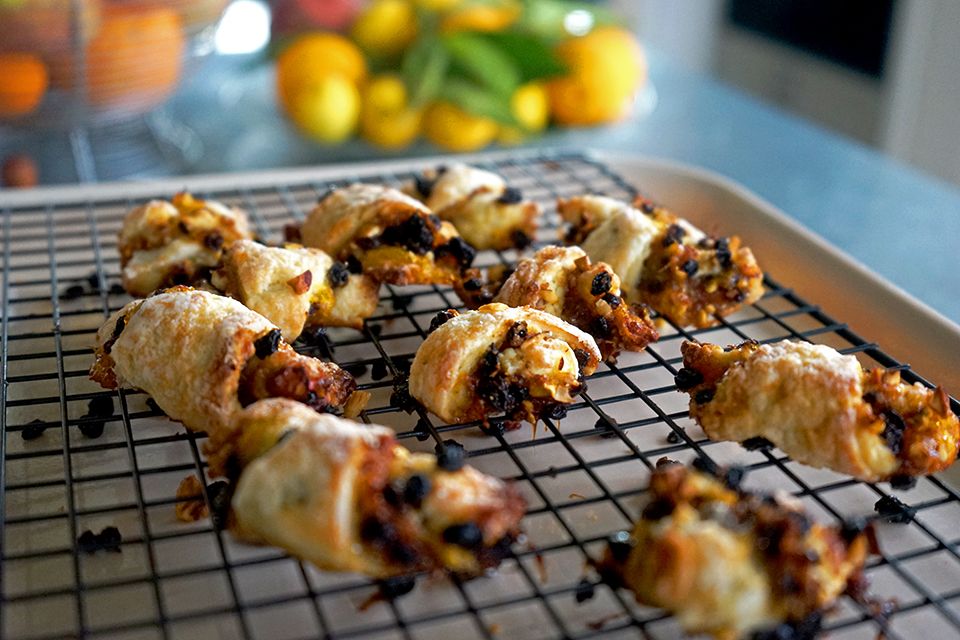 Rugelach, Yiddish for little twists, are one of the easiest, most versatile sweet cookie-pastries you will ever know. It started out as a fluffy pastry and morphed into a cookie as the recipe immigrated along with it's Jewish carriers to the USA.
A food processor is highly recommended. That being said I don't have one so I do this recipe with an electric hand mixer. If you are going to do it by hand you will need to bring the butter and cream cheese to room temperature before starting. The food processor method yields a flakier cookie and you can use it chop the nuts and fruit ahead making the cookies must easier to assemble.
It's an easy recipe with very forgiving dough and a great holiday cookie but enjoyed year round by cookie lovers! They are quite addictive, so beware.

For the dough
2 cups all purpose flour
¼ teaspoon kosher salt
¼ cup raw sugar
8 ounces cream cheese, cold and cubed
2 sticks (16 tablespoons) salted butter, cold
1 teaspoon vanilla extract
1 egg, yolk and white separated
For the filling
½ cup fresh mango jam
2 tablespoons brown sugar
½ cup finely chopped dried currants
½ cup finely chopped dried apricots
½ cup finely chopped pistachios
½ cup finely chopped walnuts
½ teaspoon ground cinnamon
¼ teaspoon ground cardamom
½ teaspoon ground nutmeg
¼ teaspoon salt
Powdered Sugar for assembly
¼ cup milk for brushing pre baking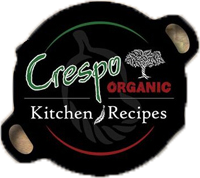 Mix together the flour and salt in a medium bowl.
Food processor method : Cube the cream cheese and place it in your food processor, along with the sugar. With the motor running, add cubes of butter and process until the butter and the cream cheese are mixed thoroughly and the mixture is sooth and creamy. Add the vanilla and the egg yolk (sugar if desired) and mix until they are full incorporated. Add the flour and salt mixture and pulse until the dough starts to clump together.
Hand Mixer Method: Soften the cream cheese and butter. Combine the butter, sugar and cream cheese in a mixing bowl and mix until smooth and fully incorporated. Add the vanilla and egg yolk and mix again until they are incorporated fully.
Add the flour and salt mixture a little at a time and mix until the dough starts to come together in clumps. I typically use my hands with this method.
Once the dough has come together in clumps, press it together it forms one ball. Separate the ball into four sections and shape each of the four sections into a small thick disc. Wrap the discs, separately in plastic wrap or place them in an airtight glass container in the refrigerator for at least 1 hour and up to a few days. You can also freeze the dough for several weeks. Thaw fully in the refrigerator 24 hours before using if frozen.
When Your Ready to Bake: Prepare two parchment lines baking trays. Mix together all the filling ingredients. Sprinkle your work surface with powdered sugar. Take one disc out a at a time a few minutes before rolling so it can warm a little. Roll out the dough into a circle about 8 inches wide and about 1/8 inch thick. Use the powdered sugar to prevent sticking.
Spread a layer of jam evenly over the entire circle (about 2 tablespoons), right up to the edges of the dough. Sprinkle the circle of jam with about ½ cup of the dried fruit, nuts and spices mix, again evenly, making sure the jam if fully covered with the dried filling. Slice the dough like a pie into wedges using a pizza cutter or very sharp knife. You should be able to get about 12 slices.
Roll each slice or wedge, beginning with the wide, outside edge into the smaller center of the circle. Make sure the tip is tucked in. Set the rolled "cookie" with the tip face down and make sure it is in a shaped in a crescent shape. Repeat until you have both sheets filled with rugelach.
Refrigerate the baking sheets of rugelach for 30 minutes.
Preheat oven to 375°F .
Brush the tops of the pre-baked cookies with milk. Bake the cookies until golden-brown, about 20 minutes. Rotate baking trays half way through to endure even browning. Once the cookies are done, remove them one by one- carefully and place them on a wire racks to cool.