Pozole Verde Con Mango
This authentically Mexican dish with flavorful braised pork, chicken, chilies, tomatillos and hominy is a dish of green goodness. Its rather easy to make and uses a lot of fresh ingredients with more fresh ingredients on top. Its healthy and at the same time satisfying. The normal spiciness of a good pozole is balanced nicely with fresh mango puree. But you can always add more spice if you like it how like we do. It might seem odd to mix chicken and pork, but we promise the taste incredible together and the pork lends to the rich broth. You have to eat this with our Crespo Organic Sinaloa Sauce, you just must!
Adjust the fresh chili peppers to make it less or more spicy.

For the verde
1 medium yellow onion, chopped
1 poblano chili pepper, deseeded and chopped
2 tablespoons neutral oil or olive oil, plus more
2 teaspoons salt, plus more
1 bunch of cilantro, stems removed
1 cup water
For the soup
2/3 cup chopped red onion
2 cloves garlic, chopped
1 poblano chili pepper, deseeded and chopped
1 serrano chili pepper, sliced thin ( 2 if you want it spicy)
1 large chicken breast, cubed small
¾ pound of pork, cubed small
2 teaspoons
½ teaspoons cumin
1 teaspoon smoked paprika
1 teaspoon black pepper
1 teaspoon fresh oregano leaves, chopped
½ cup mango puree
3 cups water
2-3 cups hominy, precooked
Lime slices
Mango cubes
Sliced chilies
Cilantro eaves
Avocado cubes
Crespo Organic Sinaloa Sauce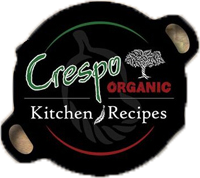 Preheat the oven to 475 degrees F. Toss together the poblanos, tomatillos and yellow onion with salt and 2 tablespoons oil. Roast for about 20 minutes until slightly brown and soft. Allow to cool for about 15 minutes and then blend until smooth, along with 1 cup water and the bunch of chopped cilantro. Set aisde.
Heat a heavy bottom soup pan with the oil in it to medium-high heat. Add the onions, garlic, poblano and serrano and sauté a few minutes, stirring constantly. Add the chicken and the pork and continue to sauté and stir a few more minutes. Once the meat starts to brown a little add the salt and other spices and stir well. Add the fresh oregano and mango puree and stir. Allow the mixture to cook a few more minutes on medium high heat. The liquid should turn thick and the tomatillos will start to melt down. Add the blended green mixture you previously made as well as the three cups of water. Let the mixture come to a boil and then reduce temperature to low. Add the cooked hominy, stir and cover. Cook for another 30 minutes.
Serve with fresh radishes, cilantro leaves, avocado and mango cubes and lime wedges- sliced chilies for those that want more heat and of course Crespo Organic Sinaloa Sauce.