Mango Toum
Toum is a Lebanese garlic sauce, made by emulsifying raw garlic into oil. It's a sharp, bold alternative to mayonnaise that is traditionally served over meats and vegetables. The idea for this recipe came about because of a bad garlic purchase I made where about 4-5 heads started to go bad at once. This type of thing happens in produce. With garlic it could be rains prior to or at harvest, or the crop didn't cure (or dry) long enough or a number of other totally normal agricultural reasons. When it does happen, you want to make sure you have something to do with all the garlic before it goes bad. The mango gives this garlic sauce a mild and more tropical flare. It's amazing as a grill sauce on either meats or vegetables. The natural sugars in the mango help caramelize the garlic flavor into whatever is grilling. The test kitchen is quite proud of its Mango-Toum Yogurt Marinated Chicken and Vegetable Skewers recipe.
This makes a fantastic mayonnaise alternative for vegans.

4 bulbs garlic, peeled
1 ½ teaspoons salt
¼ cup thick mango puree
1 ½ cup extra virgin olive oil
2 tablespoons lemon juice
3 tablespoons ice water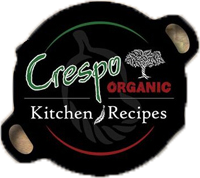 Place the garlic and the salt in a food processor and pulse for about 2 minutes. Process using a few quick bursts at a time making sure to stop once or twice to scrape down the garlic bits and then resume processing until the garlic is chopped super fine. Add the lemon mango puree and process until a thick, fluffy paste forms.
With the food processor running, slowly begin pour ½ cup of the olive oil in a thin stream into the mango garlic mixture. Slowly drizzle in 1 tablespoon of the ice water and then 1 tablespoon of the lemon juice, with the processor still running. Slowly add another ½ cup of olive oil, again in a slow thin stream to the mixture, followed by 1 tablespoon of ice water and another tablespoons lemon juice. Repeat with the last ½ cup of olive oil, followed by 1 tablespoon of ice water. The entire emulsifying process should take about 5-6 minutes.
Store in an airtight container in the refrigerator for up to 3 weeks.