Whiskey & Mango St Luis Style BBQ Ribs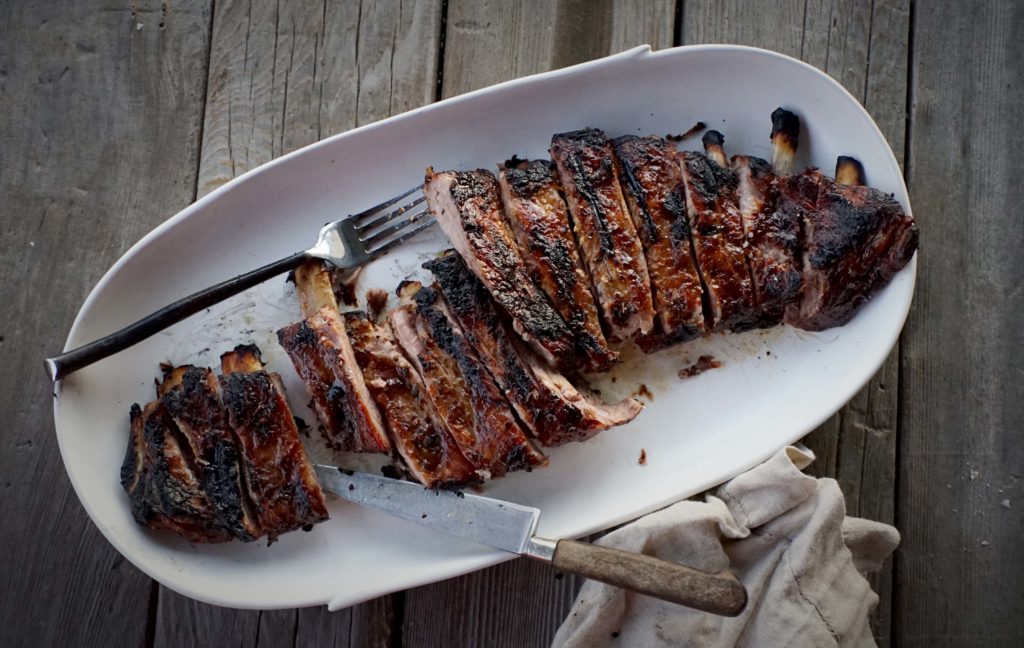 Making a fresh tomato-based BBQ sauce is easy. The Heirloom varietals are sweet with a potent flavor profile, we like to use those. We use whiskey to add a bit more flavor and we do not cook the whiskey in the sauce, we let the booze cook off on the grill. YI can just as easily add the whiskey to the stove cooking part if you want to cook all aspects of the whiskey out.
Whiskey & Mango St Luis Style BBQ Ribs
Makes 3 1/2 cups of sauce

For the BBQ sauce
1 large yellow peppers, or 2-3 smaller ones, roughly chopped
½ medium yellow onion, peeled and roughly chopped
2 cloves garlic, peeled and roughly chopped
1 hot red or yellow chili, deseeded and roughly chopped
1 teaspoon fresh ginger, peeled and chopped fine
2-3 wheels or dried citrus (blood oranges, lemons and/ or oranges) substitute 1 teaspoon lemon zest and 2 teaspoons orange zest
2 tablespoons chopped fresh sage leaves
1 teaspoons alder smoked salt
¼ cup brown sugar
1 teaspoon salt
1 teaspoon cracked white pepper
1 teaspoon cracked black pepper
1 teaspoon smoked paprika
1 teaspoon ground cumin
½ teaspoon ground turmeric
½ teaspoon red chili flakes (I used Aleppo pepper)
¼ cup white balsamic vinegar (I used O brand Honey Balsamic)
2 tablespoons olive oil
1 cup yellow tomatoes, chopped small
¾ cup water
1 tablespoon hot yellow mustard
½ cup mango puree
½ cup whiskey
For the ribs
3-4 pounds St Luis style spare ribs
2 teaspoons salt
2 teaspoons orange zest
¼ cup honey balsamic vinegar or white balsamic vinegar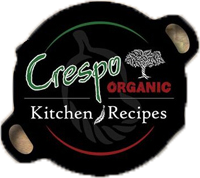 For the BBQ Sauce
Pre-heat your oven to 375 degrees F.
Combine the peppers, onions, garlic, chilies and ginger in a large mixing bowl. Add your dried citrus or zest, the fresh sage and all the spices and sugar. Add the vinegar and oil and mix until all the ingredients are combined and drenched in the spices and oil and vinegar. Lay the mixture flat on a lined baking sheet and place it in the oven to bake for about 35-40 minutes or until the peppers and onions are slightly charred but not burned.
Remove the pepper mixture from the oven in a medium soup or large sauce pan. Add the tomatoes and water and bring the mixture to a boil, stirring often. Once the mixture starts to boil, turn down the burner and simmer for about 20 minutes, stirring only occasionally. Take off the heat and allow the mixture to come to room temperature. Stir in the mango puree and the whiskey.
Blend the mixture, in a few smaller batches, into a smooth sauce. Refrigerate until use. You can also freeze some of the BBQ sauce for future use at this stage, since the recipe yields quite a bit.
For the ribs
Pre-heat your oven to 325 degrees F.
Season the rack of ribs on both sides with the salt and orange zest, making sure you rub it in to the rib crevices. Sprinkle the vinegar all over both sides as well. Bake for about 2 ½ hours or until the meat is super tender. Cool.
Heat your grill to medium high heat. Slather about 1 ½ cup of sauce all over both sides of the ribs, making sure the sauce is evenly coated. Place onto the hot grill and cook over medium high heat about 3-5 minutes per side or until charred but not overly burnt.
If you are going to serve sauce on the side, I recommend simmering the sauce for 20 minutes before serving, allowing the whiskey to cook out a bit.