The Smoking Mango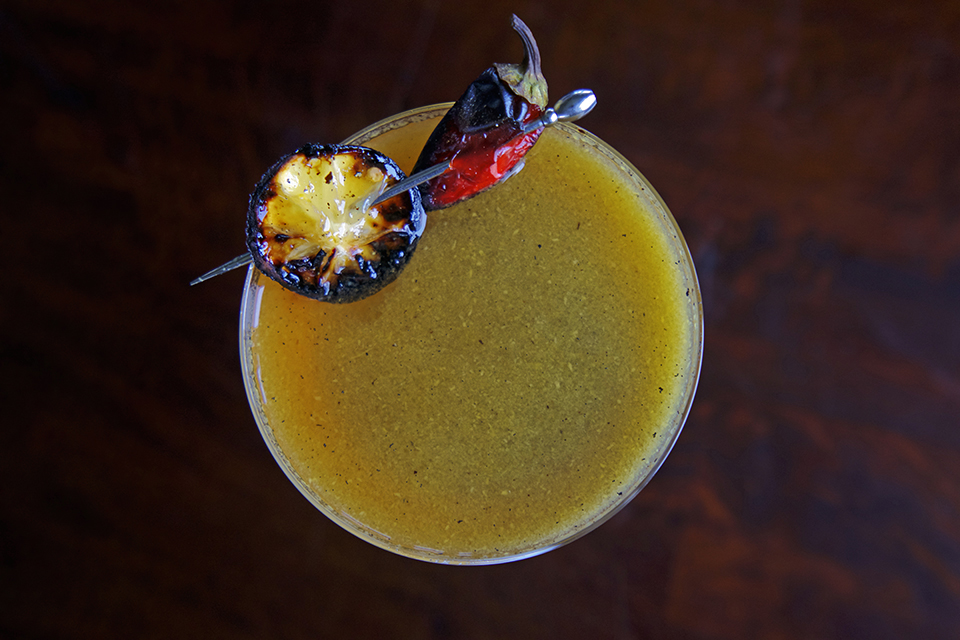 If you are looking for a drink that is definitely not sweet, this is it. It's warm, perfumy and little smoky while still having bright and bold tones. The charred mango in this cocktail captures a slightly different, more robust sweetness, deepening the flavor profile of the mango and the taste of the sugar- smoky sweet vs just plain sugar sweet. The perfumy essence of mangoes melds well with the vanilla and the powerful smoky mescal is richly warming. This drink is strong but at the same time delicate, which is how we like to describe both a Mexican Mango and Mexico in general! This drink is a celebration of both.
We love using Del Maguay Vida Organic Mezcal and Dulce Vida Organic Tequila in this recipe.

1 ounce mezcal
1 ounce tequila
1 ounce Charred Mango Vanilla Shrub*
½ ounce Red Chili Honey Syrup*
½ ounce Lime Juice
Red Chili Garnish
Optional bitters – if you have them
2 drops Brooklyn Hemispherical Charred Pineapple Bitters
2 drops of Biter Truth Peach Bitters
for the charred vanilla mango shrub
1 large ripe mango, peeled and cut into ½ inch slices
2 tablespoons honey
pinch of salt
½ vanilla bean
½ teaspoon cracked black pepper
½ teaspoon cinnamon
1 cup coconut sugar
Juice of 2 limes
Zest of on lime
¾ cup white balsamic vinegar
2 slices red chili pepper, seeds included (optional for a little extra kick)
for the red chili honey
½ cup honey
½ cup water
1 large fresh red chili, deseeded and chopped fine
Combine mescal, tequila, shrub, honey syrup and lime juice in a cocktail shaker. Fill about half way with ice and shake vigorously for about 25 seconds or until the outside of the shaker gets cold and frosty. Strain into a chilled coupe style or low ball glass and garnish with a slice of red chili and a few drops of bitters.
For the charred vanilla mango shrub
Pre heat your oven to broil at about 425°. Brush the sliced mango with honey and sprinkle with salt and place on a baking sheet lined with parchment paper. Bake until charred about 5-8 minutes.
In a quart size mason jar combine the charred mango, vanilla bean ( split the bean open and scrape the insides out and add that too), black pepper, cinnamon, sugar, lime juice and zest. Shake vigorously, cover and place in the fridge. Allow to macerate a few days, shaking vigorously a few times a day. Strain the maceration, using a fine-mesh strainer or cheesecloth, making sure to extract all the juice from the charred mango. Discard the solids and the white balsamic vinegar. Chill.
For the red chili honey
Warm the honey, water and chili in a small saucepan, stirring often over low heat for about 10 minutes. Turn off and let cool completely and allow to infuse another 10 minutes. Strain and chill