Live From the Crespo Organic Kitchen with Nissa
Learn from, cook with or just watch our inhouse mango cracker-hack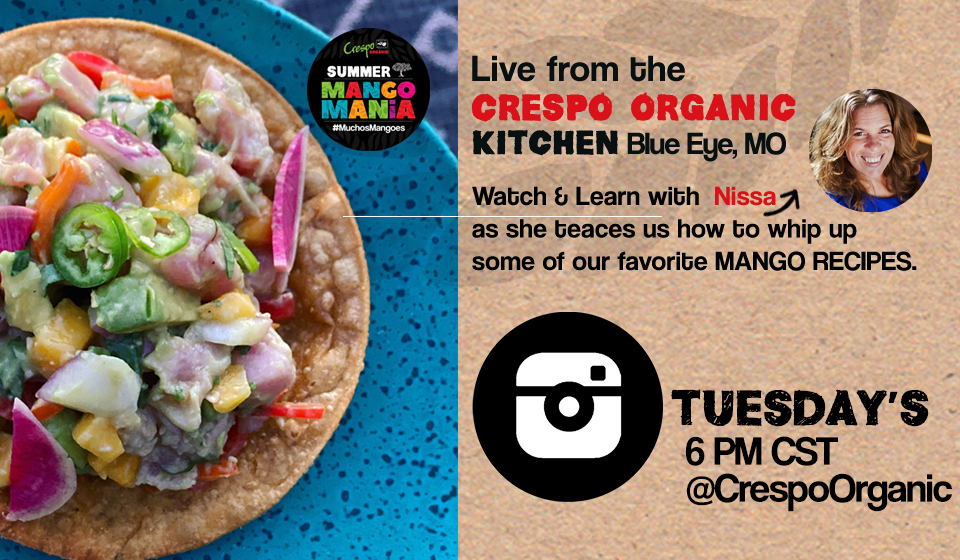 Time: 1:00 pm - CST
TIME:
1:00 PM CST
LOCATION:
Instagram Live
(@CrespoOrganic)
DESCRIPTION: Live From the Crespo Organic Kitchen with Nissa
This time of year there is a lot happening inside the Crespo Organic Kitchen in Blue Eye, Mo. Nissa, who also directs the organic mango program for El Grupo Crespo, is a noted culinary expert and founder of Ger-Nis Culinary & Herb Center. She's been lending, expanding and sharing her culinary herbal expertise for over 25 years now and has become a leader in mango recipe development with her work with the Crespo Organic brand. She's a noted cooking instructor, food writer and recipe developer. In addition to handling all the organic sales for Crespo she (and her Ger-Nis team) manage all of the marketing content, PR and branding for Crespo Organic.
The majority of the recipes and photography you see throughout the Crespo website, POP materials, social media and blog is hers. She will be the first to admit she has a great culinary and marketing team (the elves that edit and tweak her creative ideas into perfection).
You will always find her traveling the globe in search of food and cultural knowledge and ideas, while working with small farmers in her produce consultancy business specializing in sustainable, organic, fair trade and local agriculture. She writes about fresh herbs on her blog MyHerbalRoots.com and educates consumers about organic mangoes UnderTheMangoTree.CrespoOrganic.com
EVENT NOTES: She's fun to watch and will appear sporadically as usual LIVE, but has two schedule Live events that are worth putting on the calendar!
Saturday July 15th What the fork? The Crespo Organic Mango Fork
Saturday July 29th Oaxacan BBQ Party Prep