Recipe Testing with @Picoypero (Nissa)
Watch a mango recipe go from an idea to print!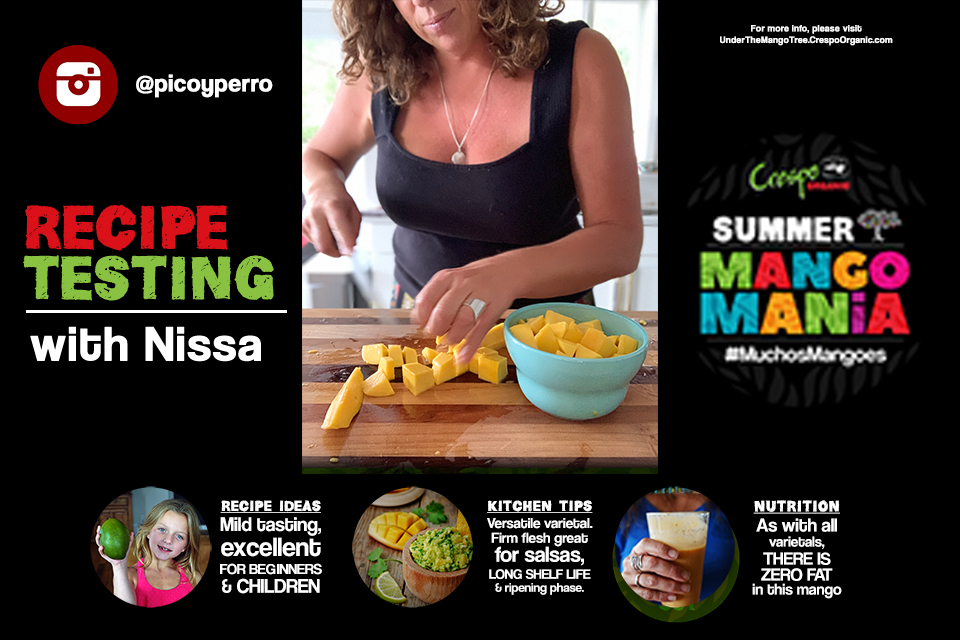 Time: 6:00 pm - CST
TIME:
6PM CST
LOCATION:
Virtual Instagram Live @Picoypero
DESCRIPTION: Recipe Testing with @Picoyperro (Nissa)
The mastermind behind the Crespo Organic Kitchen is our in-house crackerjack, Nissa Pierson. And yes she also manages the entire organic category as the full-time part of her gig with El Grupo Crespo.
Nissa has been traveling the globe in search of food and cultural knowledge while working with farmers in her produce consultancy business for over 25+ years. She specializes in sustainable, organic, fairly traded and local agricultural products. She has accumulated extensive culinary expertise in her many years working with fruits, vegetable, and herb farmers all over the world and has been specializing in sharing that knowledge through food and food culture education since 2005 when she founded Ger-Nis Culinary & Herb Center (and technically way before through other teaching channels). She is a noted herb expert, a veteran cooking instructor, and a food writer/recipe developer with over 25+ years experience. She writes about fresh herbs on her blog MyHerbalRoots.com and educates consumers about organic mangoes on her blog UnderTheMangoTree.CrespoOrganic.com.
She understands the importance of all aspects of mango expertise – from orchard to table and her offering of the culinary and education aspect of mangoes to the Crespo Organic brand is the only of its kind.
During mango season she is constantly coming up with new mango-centric recipes, tips and general education from the orchards to the table. Recipe testing comes fairly easy to Nissa, she has a gift for recipe creation, that encompasses a total understanding of the home cook.
Every Tuesday during Summer Mango Mania you can watch her in her element.
You can learn more about Nissa's history at MyHerbal-Roots.
RECIPES/IDEAS FEATURED: She has decided to go big this summer. Since we have covered a lot of the basics, why not get creative!? Don't fret, she specializes in ideas that are easily recreatable. If you don't believe us, tune into Crespo Organic's Recipe Roulette with Mango Hunter Jeff Ray this summer!
EVENT NOTES: The following are ideas she is testing: each one is literally just an idea
Tuesday June 20th Mango Adobo BBQ Herb Rub
Tuesday June 27th Mango Coconut Coffee Cake
Tuesday July 4th Taco Tuesday Mango Octopus Extravaganza
Tuesday July 17th Mallika Mango Ice Cream Sandwiches