I Spy #CrespoMangoes Friday (& Hint Reels Monday)
Spot our mangoes out in the wild, post and win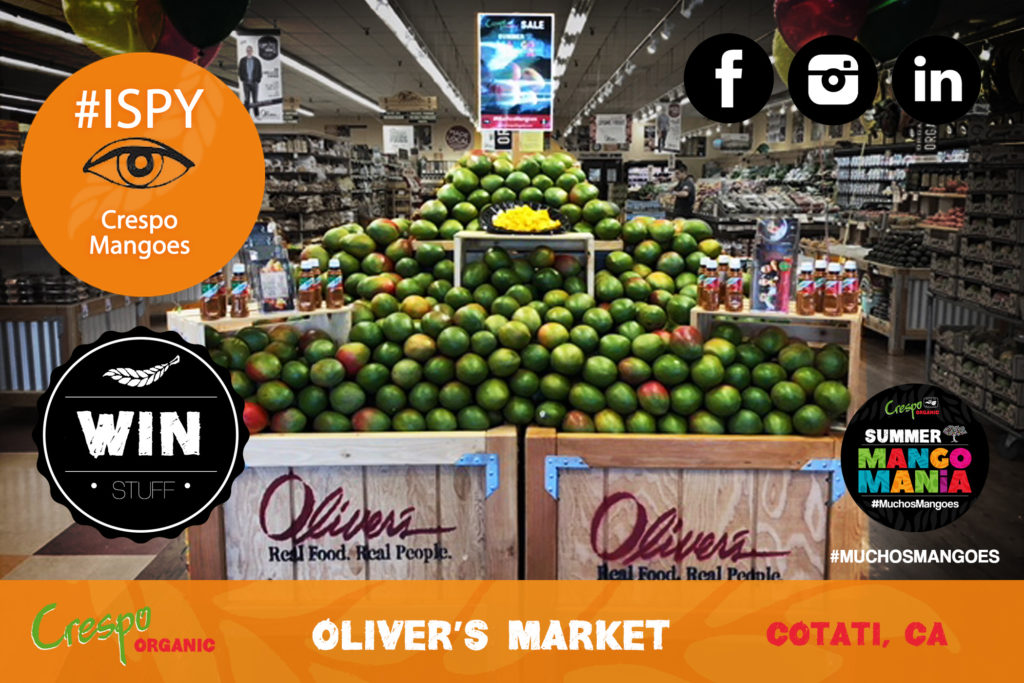 Time: 2:00 pm - CST
TIME:
2 PM CST
LOCATION:
Crespo Organic
Instagram
&
Facebook
& Linked In (@CrespoOrganic)
DESCRIPTION: Spot Crespo Mangoes, Post & Win!
This is a fun way to interact with our mangoes and shower our retailers with love. Post all week on any aspect of Instagram, Facebook or Linked photos or videos of Crespo Organic Mangoes ( Fresh or Dried) on your local retailers display. Tag us and tag the retailer (must tag both!)
Every Friday we pick a random winner, you have the entire month of July to win, the more you post, the more chances you have to win. (Post must be different each time, you can't just repost over and over!)
Every Monday we will give you some extra direction and inspiration by posting a reel of our Favorite retailers Summer Mango Mania displays.
Prizes: Crespo Mango T-shirt, women's or men's BONUS PRIZE for winning photos or videos of our dried mangoes out in the wild!
Here are some of the retailers who get extra jazzed about Crespo Organic #SummerMangoMania if you need some direction:
Walmart
Bi Rite
New Seasons Market
Kroger
New Leaf Community Markets
Sacramento Food Co-op
Wedge Community Co-op
The Fresh Market
Good Earth Natural Foods
Davis food Co-Op
Albertsons
PCC Markets
Sundance Natural Foods
Ukiah Co-op
Cids food Market
Erewhon Market
Wheatsville Food Co-op
Lucky's Market
Super 1 Market
Stop & Shop
Hannaford
Life Thyme Natural Market
Leevers Locavore
Rainbow Acres Natural Foods
Healthy Living Co-op
Oliver's MarketBratelboro Food Co-op
Urban Radish
Mom & Pop's Organic Market
Monadnock Food Co-Op
Nature's Oasis
Tacoma Park Food Co-Op
Caravia Fresh Foods
Common Market
Fry's
Big Hollow Food Co-Op
Kowalski's
Honest Weight Food Co-Op
TPSS Co-Op
Aqui Markets
Park Slope Food Co-Op
Briar Patch Co-Op
Nature's Wonders
Mama Jeans
Natural Grocers/Vitmin Cottage
Berkeley Bowl
Raleys
Costco
Good Eggs
Sherridan Food Market
Rainbow Grocery
Andronico's
Rainbow Acres
Eastside food Co-Op
Linden Hills Co-op
Draeger's
Gus's
Rainbow Grocery
Diablo Foods
Roberts Markets
Seward Co-Op
Peoples Food Co-Op
Grand Organic Food Market
Central Co-Op
Town & Country Market
Alameda Natural Grocery
Valley Natural Foods
Lakewinds Food Co-Op
Cook County Co-Op
Top Banana
Woodlands
Grocery Outlet
Fred Meyer
Bolinas People Store
Mollie Stones
Social Media Post: