We're Givin' Stuff Away But You Gotta Work For It!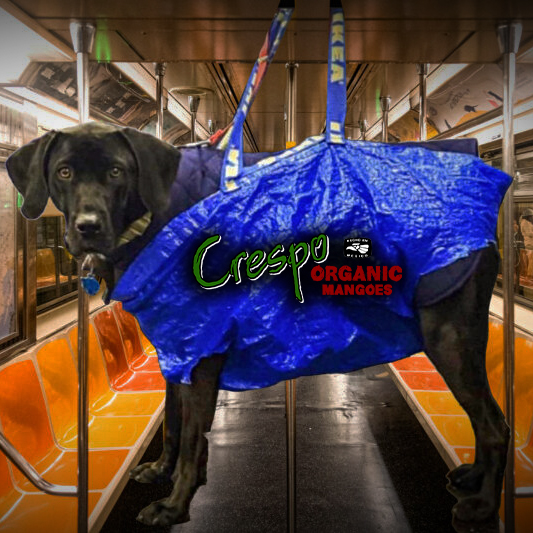 Time: 12:00 pm - CST
TIME:
12:00 PM CST
LOCATION: Facebook Live -@Crespo Organic
DECRIPTION: Facebook Monday Giveaway!
TODAY's GIVEAWAY: Crespo Organic Tote Bag & Mango Tree Tattoos & Mango Leaf Stickers
Today's giveaway will help you carry all your Summer Mango Mania MANGOES!
We are giving away 1 big, beautiful, eco-friendly and super useful Crespo Organic Tote Bag! This is no ordinary, cheap SWAG tote that will rip after 1 use…the Crespo Organic Tote is the mother of all totes! This is the only tote bag Crespo Organic Kitchen's founder, Nissa Pierson, has in her closet! (She carries Inca's stuff in it!) Oh plus you get tattoos and stickers too!!
Here's how to win!
Go to Facebook to play! @CrespoOrganic

Like this post!
Answer this question in the comments: In New York you can bring your dog on the subway if you can carry it in a bag!! What is the craziest thing you have ever carried in a tote bag? #IvintheYouTubeStar is the judge so try to impress him! ;-)
EVENT NOTES: Social Media Giveaway Rules- The Fine Print
Check out the FULL Crespo Organic events calendar on our website or on social media on our Link Tree
#SummerMangoMania #MuchosMangoes #MANGOGIVEWAY #CrespoOrganic
#giveaways #giveaway #giveawaycontest #giveawaytime #giveawayalert #free #contest #win #follow #freebies #instagiveaway #giveawaywinner #contestgiveaway #freegiveaways #freegiveaway #contestalert #competition #like #gifts #gift