We're Givin' Stuff Away But You Gotta Work For It!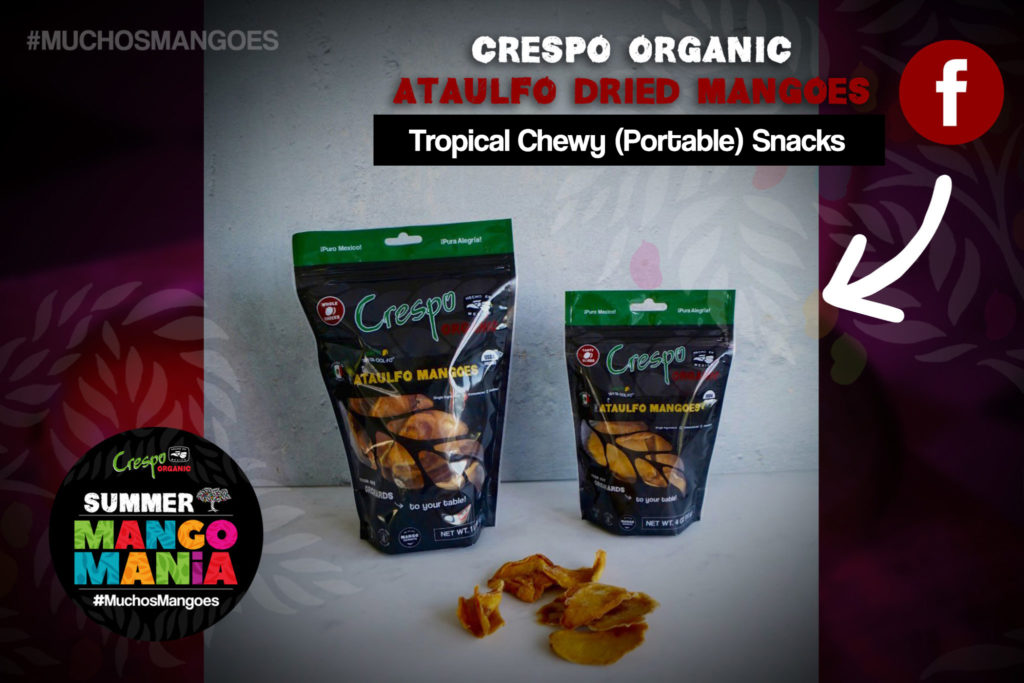 Time: 12:00 pm - CST
TIME:
12:00 PM CST
LOCATION:Facebook Live -@Crespo Organic
DECRIPTION: Facebook Monday Giveaway!
Crespo Organic Dried Ataulfo Mangoes
(Win 6 Bags -That's 1 ½ Pounds of Dried Ataulfo Mangoes)
Portable Chewy Sweet Snacks to Breeze Around with All Summer!
Succulent, ripe, silky-smooth, peak season Ataulfo mangoes grown in our Mexican mango orchards are dried into succulent and chewy mango snacks in our hometown of El Rosario, Sinaloa, Mexico.
Single Ingredient. (NO SUGAR ADDED!!!!)
Sugar-Caramel Sweetness
Vibrant Tropical Flavor
Tinge of Natural Habanero Spice
From orchard to store….
Here's how to win!
Like this post!
⦁ Must following Crespo Organic on Facebook
⦁ Tag your local grocery store in this post and ask them if they know about Crespo Organic dried mangoes– each tag is another chance to win!
Must Follow @CrespoOrganic to win! Don't forget that part!
We will select the winner randomly using a random number generator!
Winner will be announced for Monday Giveaways every Tuesday at Noon CST
Prize will be sent via US Mail within 7 days of contest completion!
Only US Addresses in the continental US are eligible to win!
TODAY's GIVEAWAY: 6-pk Crespo Organic Dried Ataulfos
EVENT NOTES: Social Media Giveaway Rules- The Fine Print
Check out the FULL Crespo Organic events calendar on our website or on social media on our Link Tree
#SummerMangoMania #MuchosMangoes #MANGOGIVEWAY #CrespoOrganic
#giveaways #giveaway #giveawaycontest #giveawaytime #giveawayalert #free #contest #win #follow #freebies #instagiveaway #giveawaywinner #contestgiveaway #freegiveaways #freegiveaway #contestalert #competition #like #gifts #gift
@coop_partners
@fourseasonspeoduce
@earlsorganic
@murphysfreshmarkets