#CrespoPeople Reels Sunday
Education and insight on the people behind the brand!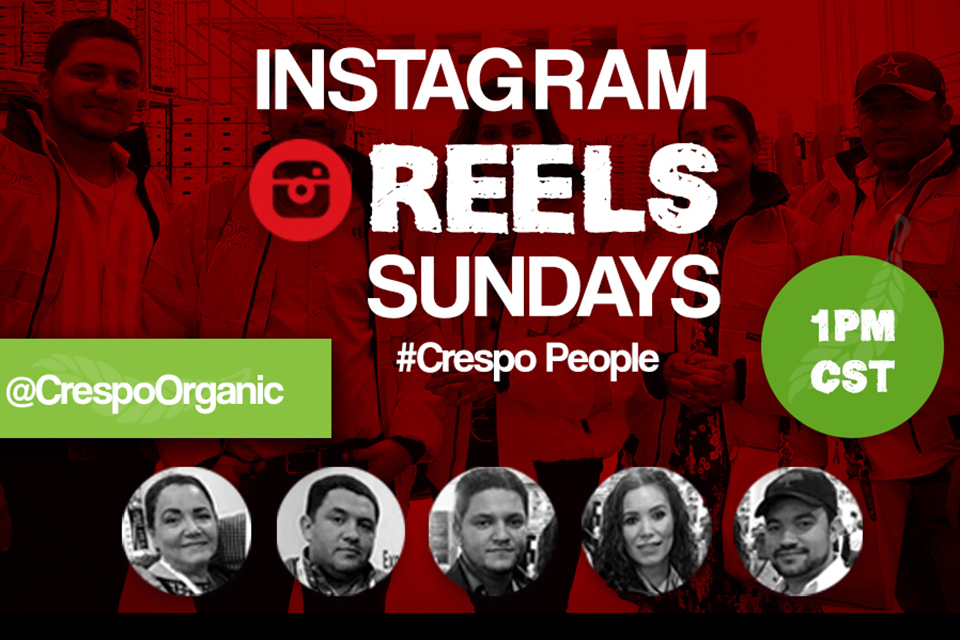 Time: 1:00 pm - CST
TIME:
1:00 PM CST
LOCATION:
Crespo Organic Instagram
(@CrespoOrganic)
DESCRIPTION: Crespo Organic is a Mexican Organic produce brand specializing in the production, distribution and marketing of organic mangoes. The brand is part of El Grupo Crespo, a Mexican family business that began around 1960 with local market chili peppers and which rapidly expanded into production and packing of fresh mangoes. Crespo Organic Mangoes/RCF Produce (El Grupo Crespo's USA distribution and marketing company) is one of the largest Mexican direct trade growers, shippers and marketers, as well as direct consumer product educators of organic mangoes in North America.
We grow, ship, and pack mangoes from all over Mexico. We market all over North America.
Our people are the roots of our brand. We want you to know us! Jump onto Instagram every Sunday during Summer Mango Mania and learn who we are. "We" also includes our customers, retailers, and shoppers, including the little Crespo niños out there! Follow the hashtag #CrespoPeople to never miss out on learning about these people YEAR-ROUND!
Here is a sneak peak at the topics we have chosen for this year's mania!
Sunday June 25th – The Crespo Family, People of the Community
Sunday July 2nd – The Mango Harvesters
Sunday July 9th – The PLU Sticker(ers)
Sunday July 16th – Our Nogales Team
Sunday July 23rd- Our McAllen Team
Sunday July 30th – The Crespo Organic Kitchen